The analytics tool enables you to see a summary of the most important meeting metrics. It will help you discover opportunities for optimizing your meeting room use and time spent in meetings.
This feature is available only for Professional and Enterprise plan users, and it is automatically enabled.
You will find this feature at your Joan Portal, in the "Analytics" section at the top of the page.
You can set the date range or filter by rooms/buildings.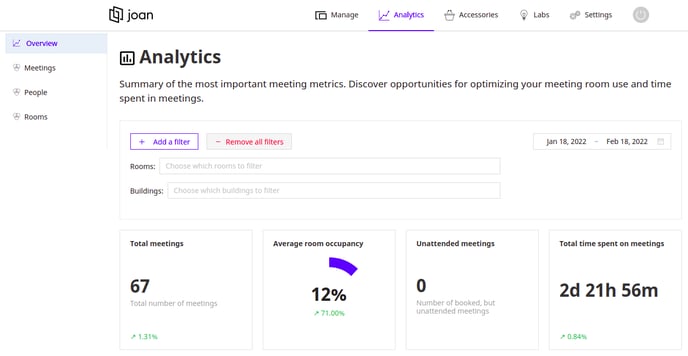 The "Overview" section, which you can find on the left-hand side menu, will allow you to see the following metrics:
Number of meetings - The total number of meetings in the selected period per room

Type of meetings - Distribution of on-the-spot (ad-hoc) and planned meetings as well as
Number of meetings per room - The total number of booked meetings for each meeting room

Number of meetings per employee - Up to ten employees with the most meetings in the current period and
Number of unattended meetings - Up to ten employees with the most unattended meetings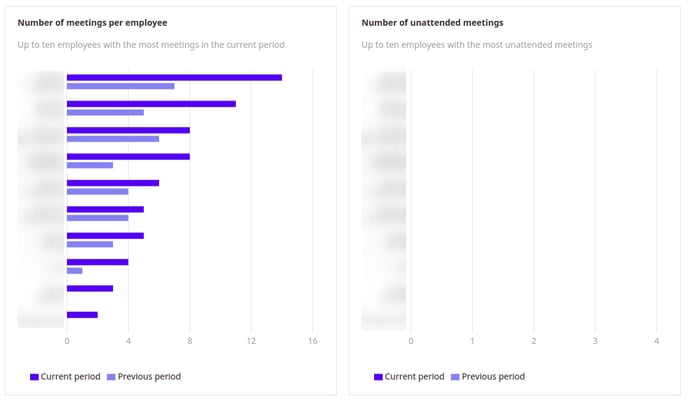 Additionally, you have the option to see analytics related to meetings, people, and rooms. To do so, check out our article.