If your Joan device is displaying the following message: "Could not pair device on this server. Please remove it from your account and pair it again.", it' doing so because there is a pairing error with the server.
In order to resolve this, please log in to your Joan Portal and click on "Manage" on top of the screen. Then, navigate to "Devices" on the left side menu. Select the device you need to pair, and the "Re-pair" button will appear. Simply click on that button and your device should be paired again to your account.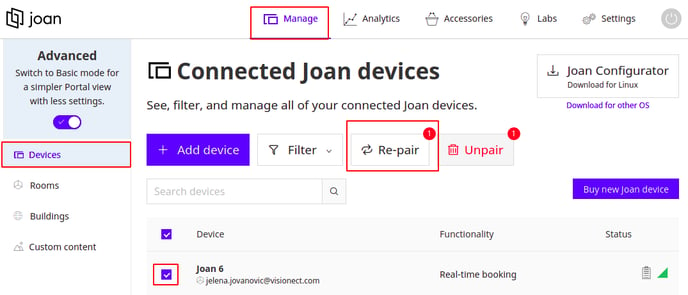 If that did not help, please follow the next steps:
Make sure that the device is not paired to a different Joan Portal account.
Select the correct hosting option for the device (in the cloud) via the Joan Configurator
Once it is configured and connected to a server properly, the device will automatically refresh and remove the notification message and begin displaying your resource's schedule.