Throughout its operation, the Joan device keeps a log that contains information about its hardware, firmware, and actions it is taking. If an error occurs, it will be noted down in this log file.
If your device suddenly stopped working, is having Wi-Fi connection problems, or is no longer responding to touch commands it can be either due to a network-related or hardware-related issue.
So, whenever you experience an issue with the device, supplying this log file to us at support@getjoan.com will make the process of identifying and resolving the issue much faster.
How to acquire the device's log file
Joan Configurator mobile app:
To obtain the log file from your phone, please follow these steps:
Open your mobile configurator app.
Once opened, the app will automatically scan for nearby Joan devices via Bluetooth. If prompted, please enable permissions and turn on Bluetooth and location on your smartphone.
If the app does not automatically scan for devices, simply tap "Scan"
After a successful scan, a list of all nearby Joan devices will appear. Locate the Joan device which you wish to configure and tap on it.
Once paired, the app will begin reading data from the device and a LED backlight will turn on the device's screen.
Select the Tools option in the navigation bar below
Tap on Gather logs, and wait for the logs to be generated.


Joan Configurator desktop app:
But, how to acquire this file? Follow these steps:
Run the Joan Configurator
Connect the Joan device to your PC with the provided Micro USB or USB-C cable
Select your device
Select the Tools option in the navigation bar below
Click on Gather logs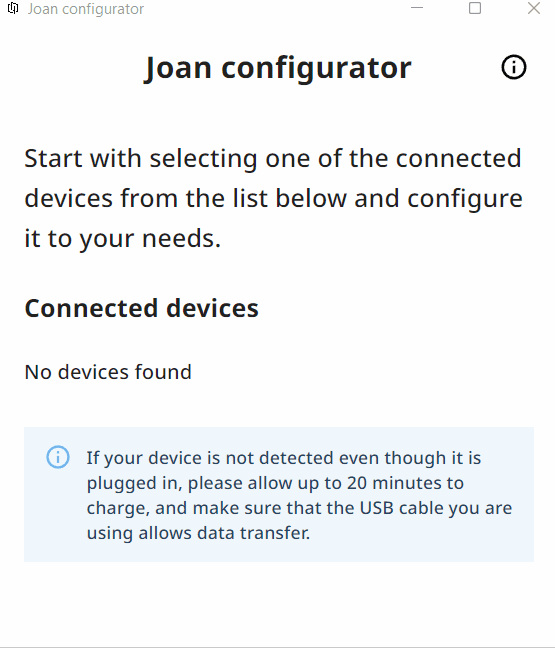 And that's it! Your log file will be saved in your Downloads folder.
You can send it to us at support@getjoan.com with a description of what is wrong with the device, and we will do our best to assist you.
We have also prepared a guide on how to troubleshoot the most common network-related issues. So, you can double-check that as well before reaching out to us. You can find it here.