If your device suddenly stopped working, is having Wi-Fi connection problems and/or is no longer responding to touch commands, it can be either due to a network-related or hardware-related issue.
Throughout its operation, the Joan device keeps a log that contains information about its hardware, firmware, and actions it is taking. If an error occurs, it will be noted down in this log file.
So, whenever you experience an issue with the device, supplying this log file to us at support@getjoan.com will make the process of identifying and resolving the issue much faster.
How to acquire the device's log file using the mobile application
But, how to acquire this file? Follow these steps:
1. Open your mobile app.and Choose the problematic device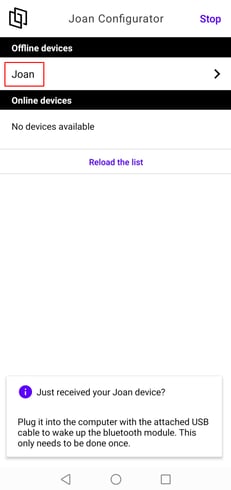 3. Navigate to the Configuration view and Tap 3 times on "Connection". The logs button is going to appear at the bottom of the screen.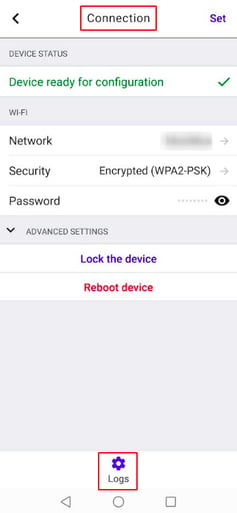 6. Click on the "Logs" button to get to the "Joan Device Log" section.
7. Now click on Export in your upper-right corner. That will start the operation of collecting logs (might take a minute).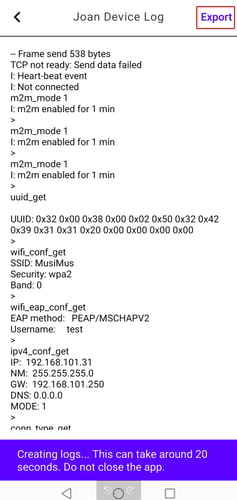 7. A mail with the log will be created and all you need to do is to send it to us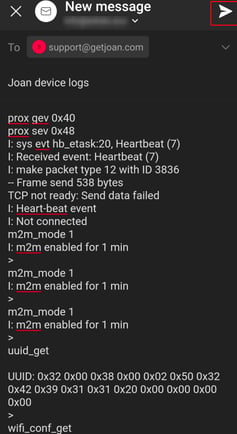 And that's it! Our support agents are going to analyze the log file and get back to you as soon as possible.
Please find out more about the Joan Configurator mobile application here.