Got your Joan Credit code, but you aren't sure how to use it? No problem! This article will help you out.
If you have a Joan Credits code available and wish to redeem it, please follow these steps:
Log in to the Joan Portal with your account credentials
Navigate to the "Settings" page via the top navigation menu
Select "Plans & Billing" from the left-hand side menu
Scroll to the bottom of the page until you reach the "Joan Credits" section
Enter the code in the dedicated field. Be careful to type it correctly, as the code is case-sensitive
Once you have entered the code, click "Redeem"
The Joan Portal will process the request and notify you once it has successfully processed it
Your billing information will now display and update your current account balance, history of account top-ups and the list of redeemed codes
Please note, that redeeming your credits won't automatically activate your subscription. After redeeming the credits, you need to activate the plan under Settings -> Plans and billing.
Please see the image below, for a visual aid in redeeming your Joan Credits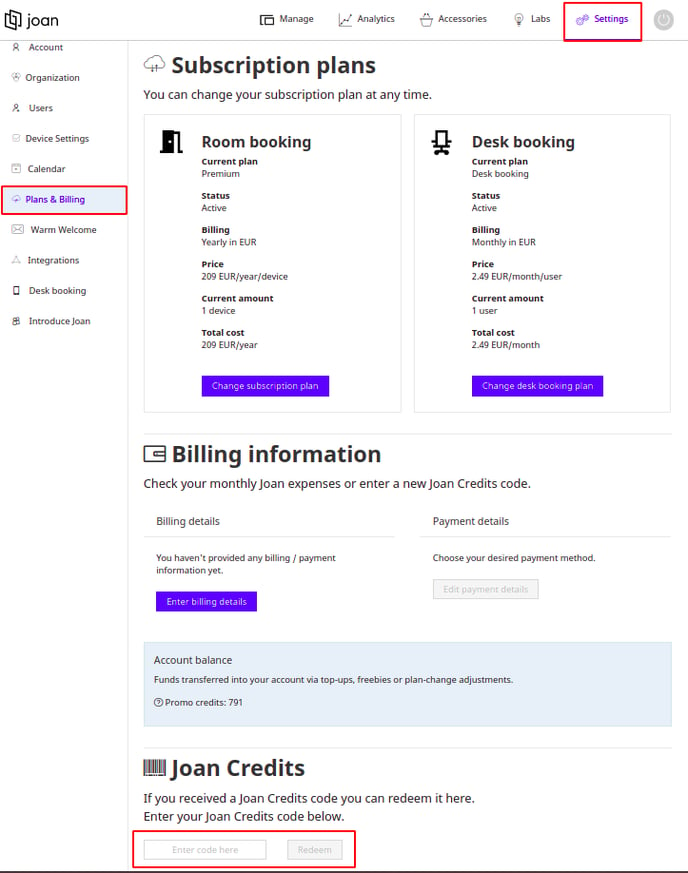 If you encounter any issues, please contact support@getjoan.com.