With Joan on tablets, the Real-time booking functionality is no longer limited to Joan 6, allowing you to manage a specific room resource on any tablet device with a simplified version of the flagship functionality.
Note: This feature is now available on all subscription plans.
Technical requirements
Joan on tablets can be used on any tablet device as long as it:
Has stable internet connectivity
Has Internet browsing capabilities
Has touch capabilities
Has portrait and landscape screen orientation
Joan on tablets is supported on any tablet running Android 6.0 or higher and iOS version 11 or higher
Joan on tablets is officially supported on the following tablets:
Samsung Tab A 8.0 and other Samsung Android tablets released since 2016
Sharp SMM-OWX
LG
ProDVX APPC-10SLB
Mimo
The size, resolution, and ratio of the device do not matter. Joan on tablets is fully responsive and will adapt to any screen setting.
How to connect Joan to your tablet
The process of connecting Joan to your tablet is very similar to pairing a Joan 6, Joan 13, or Joan on displays device to your Joan Portal account.
Simply enter the PIN code you see when you open the https://tablet.getjoan.com/ address and pair the device through the Joan Portal.
For more detailed instructions on how to pair your own tablet, please click here.
Joan on tablets functionalities
At the moment, Joan on tablets has only one functionality - a simplified version of Real-time booking.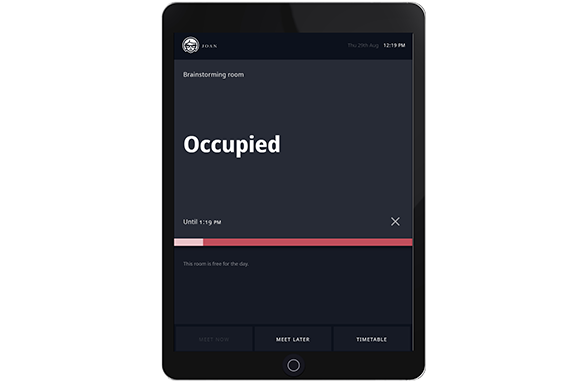 The version of the Real-time booking functionality provides you with all the essential tools necessary to manage a room resource and its meetings.
It provides the following features:
Current availability status
Upcoming meeting information
Loading bar indicating the remaining time of the current meeting
For more information about each of the features, click the dedicated links above.
Per device settings
After the device is successfully connected to your calendar, it will now be visible in your Joan Portal under Manage > Devices. Selecting the device from the list will allow you to modify certain settings. Make sure that the "Advanced" mode is active on the left upper corner of the screen. Enabling the advanced mode will let you change settings such as:
-Name that is displayed on the tablet
-The timezone in which the system will operate on
-Room - calendar