Modern Authentication brings Active Directory Authentication Library (ADAL)-based sign-in to Office client apps across platforms. This enables sign-in features such as Multi-Factor Authentication (MFA), SAML-based third-party Identity Providers with Office client applications.
This communication protocol is available to all new Joan users by default.
How to enable or check if modern authentication is enabled in your Office 365 calendar?
First, connect to your Office 365 Admin portal and log in with your admin account. As soon as you are logged in, you will be able to see all the different functionalities and features. In this case, you are interested in the Admin configuration.

To see if your Office 365 account has the modern authentication enabled, please navigate to Organisation settings > Modern authentication where you should be able to see the availability checkbox.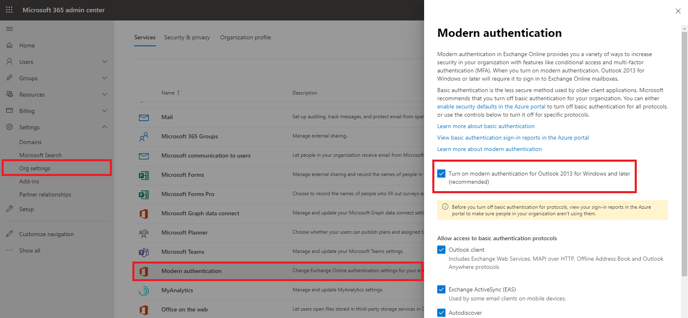 In case modern authentication is enabled, you should add the user as a delegate user to the room resources and connect them to the Joan portal.