In this section of the Joan Portal settings, you are able to provide more details about yourself and your company, and personalize Joan for your company via setting a custom logo, changing the language and timezone, and setting office hours for your Joan devices.
The Organization Settings page contains the following sections:
All of these settings can be customized for each of your buildings. To learn how to do so, click here.
Personal and company details
In the first section of the Organization settings, you can add and edit the personal and company details that you entered when creating your Joan Portal account.
These include:
First name
Last name
Job role
Company name
Number of employees
Industry
Country
Phone number
This information allows us to provide you with more personalized service.
And don't worry. The data will remain confidential, as disclosed by our Privacy Policy.
Additional contact emails
Aside from your primary Joan Portal email, which you use to log in as well as receive updates about certain account changes and seldom promotional and helpful emails from our team, you are also able to receive two additional types of emails from us:
Maintenance emails
Technical emails
The maintenance emails are notifications about the battery status and additional information about your Joan devices, while the technical emails are related to Joan's technical features, such as firmware updates and new functionalities and features.
These two fields are optional and if not filled out, you will not receive such emails from us. You can, of course, use the primary email which you used to create your Joan Portal account to receive these emails or if you wish, you can input a different designated email address for these emails.
Show your brand on your Joan devices
You can personalize your Joan devices by displaying your company's logo or any other image instead of the Joan logo.

We have prepared an in-depth guide on how to do that, along with the optimal image settings for best results. You can find it here.
Localization
If you wish for your Joan devices to show your calendar information in a different language, you can select from up to 26 available languages.
The supported languages are Arabic, Chinese (Simplified) Czech, Danish, Dutch, English (American), English (British), Finnish, French, German, Icelandic, Italian, Klingon, Lithuanian, Norwegian, Polish, Portuguese, Princeton, Russian, Slovak, Slovenian, Spanish, and Swedish.

The language change will only affect your connected devices. The Joan Portal will remain in English no matter which language you have selected.
To learn more about this feature and how to change the language of your Joan devices, click here.
Set Joan's Office hours
In order to conserve and prolong the battery life of your Joan devices, you can set the working hours for Joan.
During the set hours, Joan will be fully operational on all your devices, but once the workday ends, Joan will go to sleep and your devices will enter battery saving mode.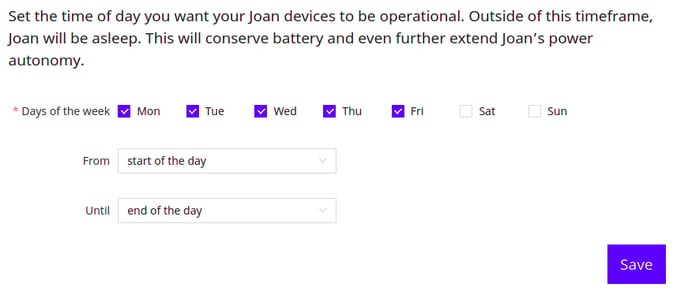 To learn more about this feature and how to set the office hours, click here.
If you need any assistance, please contact support@getjoan.com.