The PoE wallmount for Joan 6 Pro devices extends the functionalities of the smart magnet while providing an excellent solution to keep your devices seamlessly integrated into your office environment.
It enables the Joan 6 Pro device to connect to the network using ethernet cable. This way there are no more problems if the device does not have good wireless signal coverage or if you wish to tighten your network security.
While the device is attached to the wallmount, it is charged by power over the ethernet cable (PoE) enabling zero maintenance for charging a device.
On the sides of the wall mount, there are LED lights providing information about the room occupancy.
When the room is booked the LEDs on the sides of the wall mount are glowing red.
If the room is free they are glowing green.
The LED lights are starting to glow in orange color 15 minutes before the meeting starts.
That's useful for quickly seeing which meeting room is free, e.g. down the hallway.


The PoE wall-mount contains a built-in Smart Magnet that is detecting the room automatically in case the Joan 6 pro device is swapped/replaced.
How to mount it on the wall
remove the top cover of the wall mount
drill holes into the wall and attach the back cover of the wall mount to the wall
connect the ethernet cable to the wall mount from the top. The cable can also slide in from the top right or left.
put the top cover of the wall mount back on
put Joan device on it - the magnet will hold it in place (same as with smart magnet)
Joan 6 Pro wall mount dimensions:
Height: 130.2 mm / 5.13 in

Width: 92 mm / 3.62 in

Depth: 14 mm / 0.61 in

Weight: 310 g / 0.68 lbs
Frequently Asked Questions
Q: Can the device be connected to Wifi while it is placed on the PoE wallmount?
A: Yes, the device is connecting to the Wifi network by default. If you wish to connect using ethernet,
please open the latest version of the Joan Configurator application on your mobile phone, connect to
the device, click on Advanced connectivity and change the Connection Type from Wireless to Ethernet.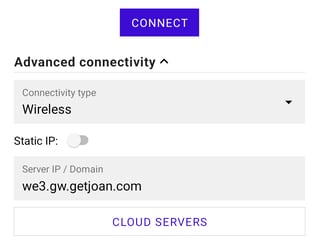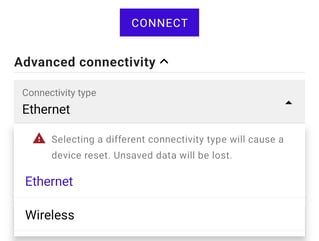 Q: There is no PoE functionality in the office. Can I still connect the device to the network using Ethernet cable?
A: Yes, the device is going to connect to Ethernet without having the PoE functionality enabled on your network. Please note, the device needs an external power source to turn on the LED indicators therefore you may want to consider getting an IEEE 802.3at compliant PoE injector to activate the LEDs and to keep your device battery constantly charged.
Our support agents are always ready to answer your questions regarding the PoE wallmount or any other devices. Feel free to contact us via chat or the support@getjoan.com email address.