Note: This feature is available with all subscription plans and is exclusive to Joan on Displays. Click here to learn more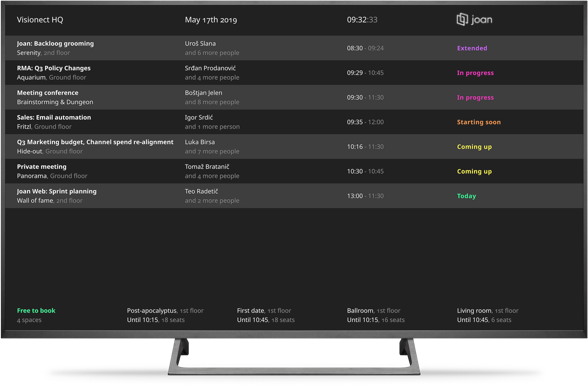 Status board provides you with a detailed overview of all resources and meeting schedules both current and in the future in a neatly organized table view on your TV or monitor.
This interface is fully responsive and supports both landscape and portrait orientation and it can display up to 40 room resources.
In the main section of the interface, it features the following information:
Current date
Current time
List of current or upcoming meetings with 4 columns:

Meeting subject/name and location
Meeting organizer and number of confirmed attendees
Start and end time of the meeting
Day/date of the meeting
While at the bottom of the page, there is another section that lists all of the available rooms and resources, with the following information:
Name of the room/resource
Availability period - for example, "All day" or "Until 14:00"
The number of seats available in the specific resource - If set in the room amenities section of the Joan Portal. To learn more about this feature, click here.
To learn more about other Joan functionalities, click here.