Joan Home
Joan Home has been created with one thing in mind - to keep you uninterrupted and focused when working from home. Produce quality work in less time. Spend the afternoons with your kids without worrying about finding time for more work. You'll be able to get through your to-do list in no time.
In this article you will be able to find everything you need to start using your Joan Home devices.
There are three major steps in the Joan setup process:
Create a Joan Portal account
First, we need you to create a Joan Portal account, a web interface that is used to manage and maintain the devices.
What is the Joan Portal? It is a dashboard where you are able to manage every aspect of your Joan system such as managing devices and room resources, enabling and disabling certain features.
Joan portal offers a Single Sign On (SSO) option in case of Office 365 and Google Sign In. This is the easiest way to connect Joan with your calendar. If you've created your portal account using the SSO, Joan home automatically connects to your Google calendar.
In case you are not using Office 365 or Google, please log in with your email and password.
We require your password to be at least 6 characters, we recommend using a combination of upper and lower case characters and numbers to ensure the safety of your account.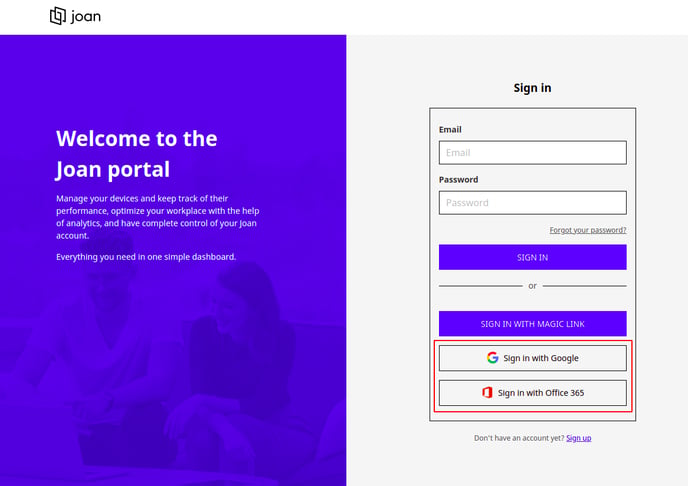 If you agree to our Terms of Service and Privacy Policy simply check the box and click the "Register" button and move on to the next step.


Since Joan Home is a new member of Joan family, you need to select the Joan Home option in the first step of your onboarding process.

Select your calendar solution
In case you have not created your account with the single sign-on option, you will have to select the calendar. You can select from a variety of calendars such as: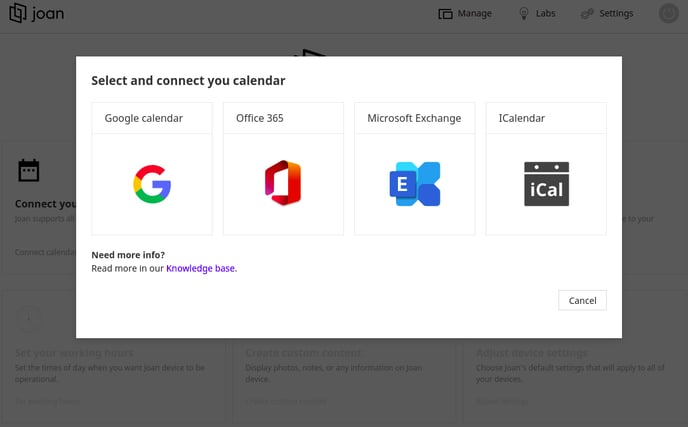 Pair your device
After a successful connection to your calendar, you will be presented with the Joan Home main view, with all Joan Home options available.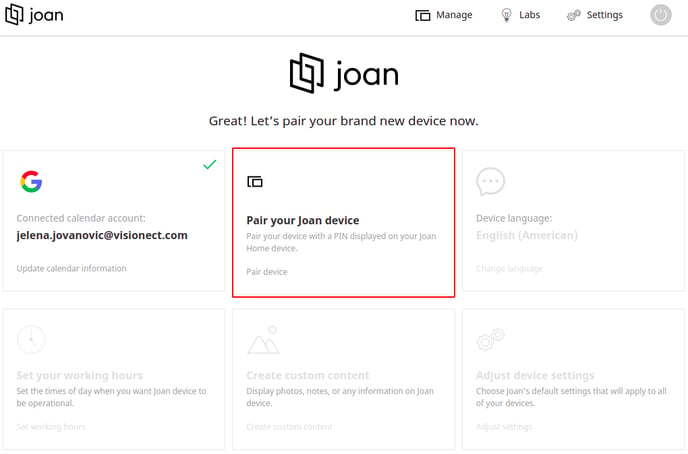 In order to pair your Joan Home device, please select the Manage device option where you will have more detailed instructions on how to pair your device. The same instructions are available below:
1. Connect the Joan device to your computer
Using the provided Micro-USB cable, connect the Joan device to your computer. Once connected, the device will start up and begin charging.
It is important to use the Micro-USB cable that you received along with the device, as other Micro-USB cables might not be suitable for simultaneous charging and data transfer.
2. Download the Joan Configurator
Joan Configurator is an application that allows you to control the network settings of your Joan device.
3. Connect the device to your Wi-Fi
Using the Joan Configurator, connect your device to your Wi-Fi network and connect it to a Joan server.
To learn more about Joan's connectivity features and network requirements, click here.
4. Acquire the PIN
After successfully connecting the device to your Wi-Fi network, unplug the Micro-USB cable from the device. Once disconnected, a pairing PIN number will appear on the Joan device. Simply enter the PIN in the next step, and you're all set!
If the PIN number does not appear, please visit our Knowledge Base here.
When you see the PIN number displayed on your Joan Home device, please click on the button "Pair."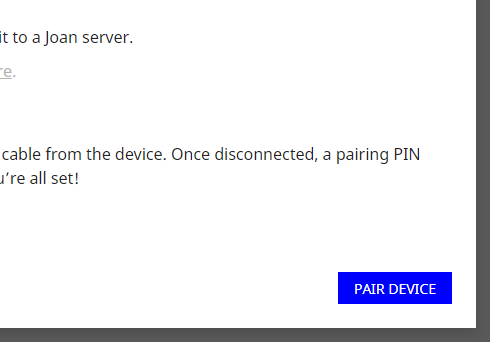 In the next step, you will see a window with an input field for your Device PIN number displayed on the screen.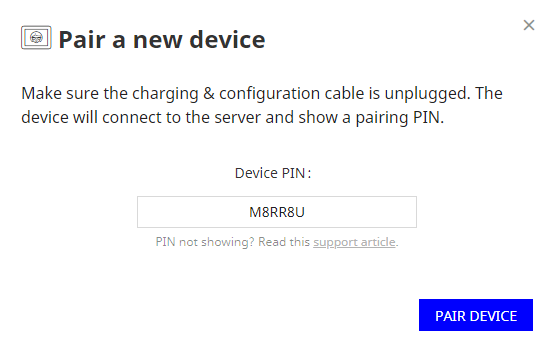 After inserting the correct device PIN number you will be directed to a screen with additional options to set as device "Name" and calendar selection.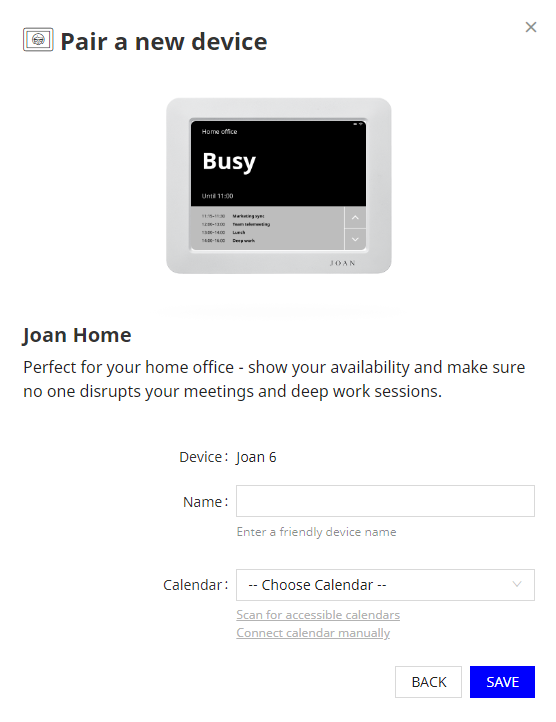 Insert the name you wish for your Joan Home device. In this section, you are as well presented with the option to insert your email address in order to synchronize your calendar with the Joan device. Now you are all set up to go you can enjoy interruption-free meetings at home.
Happy working :)