If you no longer require the Joan Room Booking subscription, you can cancel it with a few simple clicks.
In order to cancel your current subscription in the Joan Portal, you need to remove all Joan devices from your Joan Portal.
To do so, please follow these steps:
Log in to the Joan Portal with your account credentials
Navigate to the "Manage" page via the top navigation menu
Select "Devices" from the left-hand side menu


4. A table of all your devices will be visible. Select the checkbox next to ''Device'' to select all devices from the list
5. A new "Unpair" button will appear above the table. Click it.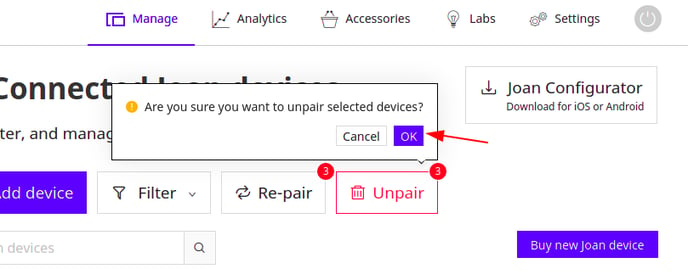 6. Once clicked, you will be prompted to either confirm or deny the action. If you wish to continue with unpairing your devices, click "OK"
After you have removed all of your devices, your subscription should be automatically cancelled.
Subscription cancellations are non-refundable!


Please note that certain features that were available under your subscription plan will now be locked on your account and the preferences/settings for those will be removed.