Our commitment to keep your data secure
At Visionect, we take your privacy seriously. Our highest priority is to provide a secure environment for your data that meets and exceeds all industry-standard security practices and guidelines. The following is an overview of the steps we take to secure your data.
Exchanging data with the server
JOAN is a thin client device, meaning that all of its operations take place online. This requires a stable connection with a server. Depending on the type of hosting (in-the-cloud or on-premises), the data is transferred differently based on the location of the device server. Below are the images that describe the information flow between the JOAN device, its server, and the firmware and calendar servers.
All the communication adheres to the highest safety standards.

Cloud hosting data exchange illustrated.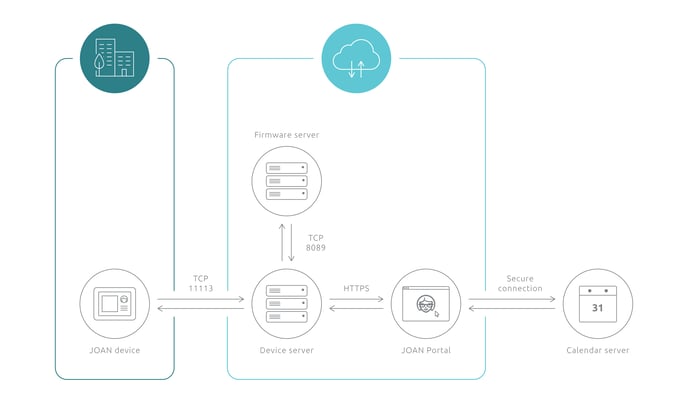 On-premises data exchange illustrated.
Please note, as of January 1, 2023, the on-premise service is no longer supported.
Find out more about the On-premise virtual machine sunset here.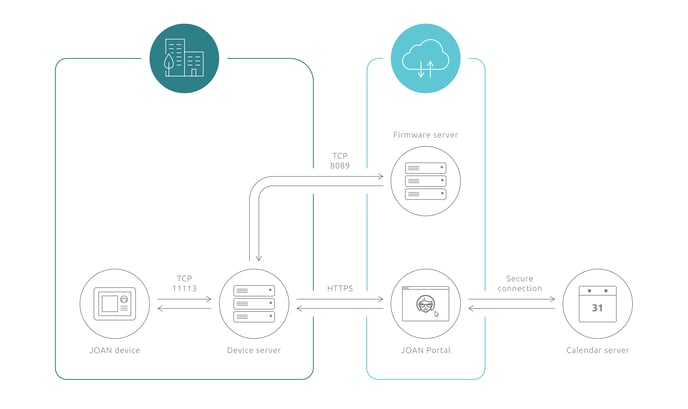 Security testing
To help ensure the safety of the data, we perform regular security assessments. This includes internal reviews of our data collection, storage and processing practices and security measures, as well as physical security measures to guard against unauthorized access.
User permissions for different calendaring solutions
JOAN operates according to the following authentications:
Google Workspace (former Google Apps; G Suite)
– OAuth2 authentication
Office 365:
– OAuth2 authentication (Global Admin)
– Basic authentication (Delegated User)
Microsoft Exchange 2010 and 2013:
– NTLM proprietary authentication protocol
For a detailed guide on authentication and user permissions please contact our Support Teams at support@getjoan.com.
Our pledge
We will be transparent about the different types of information we collect and how we use them.
We will ask your permission before sharing your personal information with third parties for purposes other than at your request or to provide Visionect Products and Services, and to do so only when we think they will provide you with a welcome additional service.
We will use best-in-class data security tools to keep your data safe and protect Visionect Products and Services from unauthorized access.
This is just a small part of our Security Policy. We're always happy to provide more details if you'd like to get more information. For any questions or feedback please contact us at info@visionect.com or info@getjoan.com.