Note: Cloud hosting is now available for all subscription plans. Click here to learn more.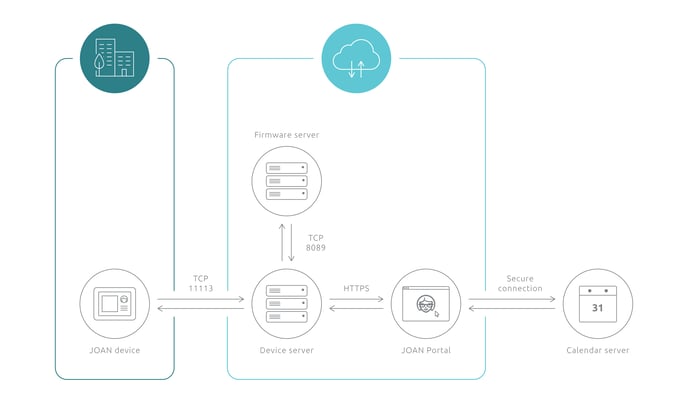 In the cloud hosting of the Visionect Software Suite (VSS) server operates as a bridge between the Joan devices and the Joan Portal.
This option allows Joan to be hosted on our top-of-the-line Visionect servers; meaning that you never have to worry about set-up, updates, uptime, and maintenance – we take care of everything.


At the moment, the VSS servers are available in the following locations worldwide:
Brussels, Belgium (Europe) x2
Oregon, United States of America (West US)
South Carolina, United States of America (East US) x2
Hong Kong (Asia)
By default, the nearest server to you will be chosen to ensure the lowest ping and delay and the smoothest Joan experience possible. However, you may select a different location of the server, but this might result in some decrease in performance.
Please keep in mind that Joan opens a persistent TCP connection on port 11113, which might need a firewall exclusion on your end.
Ready to connect your Joan device to one of our servers? Click here to learn how to do it.