Note: This feature is available with the Professional and Enterprise subscription plans. Click here to learn more.
With Joanbot on Microsoft Teams, you are able to book a room or resource on the same platform where you talk to your coworkers.
As soon as you agree on a date and time for a meeting with your colleague, simply send a message to Joan to book you a room on that particular date and it will be taken care of.
The Joanbot uses natural language processing, so you can talk to it the same you would with your coworkers. However, for best results, be as descriptive and direct as possible.
Below you are able to see how to do it:
How to integrate Joan with Microsoft Teams
To integrate Joan with your Microsoft Teams, follow these steps:
Log in to the Joan Portal with your account credentials
Navigate to the "Settings" page via the top navigation menu
Select "Integrations" from the left-hand side menu
Under the "Integrations" section, click the "Microsoft Teams" button


You will be redirected to your company's Microsoft page. Enter your credentials and provide authorization for Joan
You will be redirected back to your Joan Portal and a notification will appear that you have successfully integrated Joan to Microsoft Teams. This will be also indicated with a small green checkmark on the right of the "Microsoft Teams" button
Once the integration is successful, Go to Teams App store and search for "Joan app"




Please select the "Joan app" from the store and in the drop-down menu, please select "Add to a team" or "Add to a chat"




And that's it! You can now book your next meeting via the Joanbot on MS Teams.
How to cancel the Microsoft Teams integration with Joan
To cancel the integration with Joan, please visit your Joan Portal account and navigate to the "Integrations" section available in the settings. In the "Integrations" section, you will be able to "unlink" Joan from your Microsoft Teams account as visible on the image below.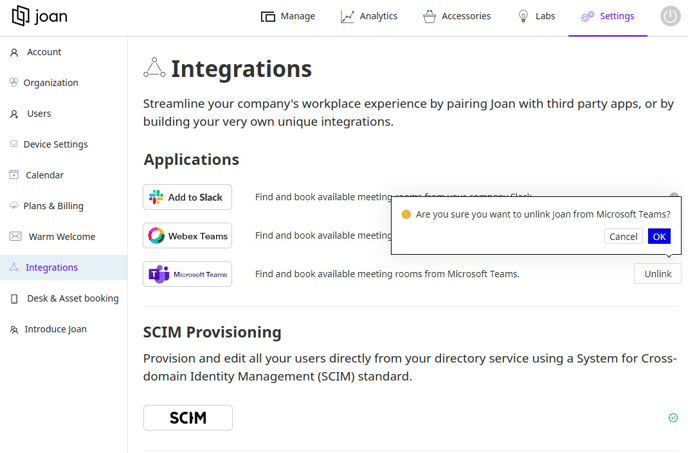 If you encounter any issues, feel free to reach us via support@getjoan.com or submit a ticket via this form.