Do you need to find a specific device in the portal, but are not sure which device it is? No worries, you just need to find the UUID of the device.
The serial number or Universally Unique Identifier (UUID) can be found in 3 places:
Packaging box of your Joan Device
If you still have the packaging of your Joan device, you can find the serial number on it, just above the serial code.
It will be denoted as "SN" followed by a 32-character number.
Joan Configurator
Joan Configurator mobile app:
Run the Joan Configurator mobile app
Under Joan, UUID should be displayed

If you have many devices, and you are not sure what UUID you need, click on the device in the Configurator and the display will brighten up.
Joan Configurator desktop app:
You can also find the device's serial number in the Joan Configurator as soon as you connect your device.
Run the Joan Configurator
Connect the Joan device to your PC with the provided Micro USB or USB-C cable
Select your device
Expand the Device information section
You can see the serial number in the UUID row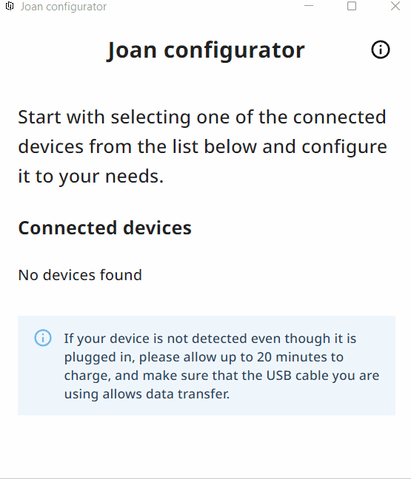 Joan Portal
If you have already connected your device to the Joan Portal, you can also find the serial number in the "Manage" -> "Devices" section. For a direct link to that page, click here.
Simply select a specific device to open the "Edit device" window and the number will be listed as "Device UUID" at the top of the page.