Note: This functionality is available only with the Professional and Enterprise subscription plans and is exclusive to Joan 13 devices. Click here to learn more.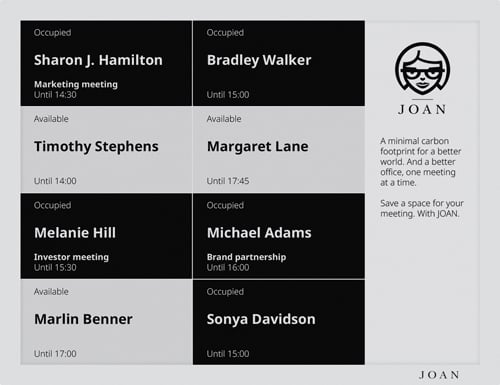 Team grid provides an overview of up to 9 resources, by displaying the availability of your co-workers, if they are in a meeting and what it is about, and when they will be available.
Like with all other functionalities, the meeting subject can be hidden for more privacy. To learn how to do that, click here.
As the name implies, Team grid is the perfect functionality to see what the whole team is up to and when they will be available and is best used on a Joan 13 at the entrance to any department's or team's space in your office.
Features:
Up to 9 resources
The resource name is the main element
Current availability information
Time until the status changes
To learn more about other Joan functionalities, click here.