Whether it is a personal calendar of a team member or a shared resource such as a huddle space, conference room, desk, or any other office resource, you will need to add such resource to your Joan Portal which will let your Joan device manage it.
If you have not yet created any room resources, please go to your preferred calendar solution and add them accordingly:
Note: Before adding a room to your Joan Portal, it is crucial to make sure that the calendar account you connected to your Joan Portal has all the necessary managing rights and permissions.
How to add a room to your Joan Portal
Log in to Joan Portal with your account credentials
Navigate to the "Manage" page via the top navigation menu
Select "Rooms" from the left-hand side menu
Click the "+Add a room" button
A pop-up window will appear. and click "Add"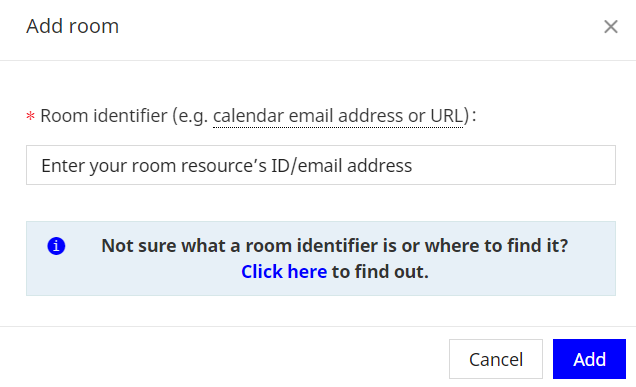 And that's it! You have successfully added a room resource to your Joan Portal.
Once the room resource is added, you are able to customize the room by adding additional information such as the location and floor of the room, capacity, and amenities. To learn more about room customization, click here.
If you have a Joan device ready and paired to your account, you can connect it to a room resource in order to display its schedule and availability. To learn how, click here.